Return to Headlines
A field trip to Employment Horizons with BHS Robotics / TSA Club students
On Tuesday October 31st students from Boonton High School's Robotics / TSA club visited Employment Horizons on a field trip. The goal of this field trip was to become better acquainted with the needs of people with disabilities in the workforce as part of a competition. The competition is the Source America Challenge, a national engineering competition in which participants create innovative workplace technologies for people with disabilities. In this challenge student teams collaborate with a nonprofit agency that employs people with disabilities, such as Employment Horizons in Cedar Knolls. The goal of this partnership is to invent a process, device, system or software that enhances productivity or helps an individual with disabilities overcome workplace obstacles.
During this trip our students were introduced to the staff at Employment Horizons as well as the dedicated workforce. The incredible staff talked to our group and explained what they do. The specialize in finding meaningful work for people with disabilities. We were led on a tour of their workshop to view their workers in action. Employment Horizons employs over 100 people in their workshop. Some of the jobs we witnessed were cleaning and checking returned remote controls for Optimum, counting and sorting components to be packaged, and assembling boxes for Tiffany's.
Our students were tasked with observing all that they could and asking the workers questions about their workplace and task. We focused on one worker who was counting small figures to be packaged as a kit. He used a simple piece of cardboard with markings on it to help visualize which figure was needed. Our students saw this worker and task as a great opportunity to design an improvement. Now our group can use their observations and start prototyping designs to find an optimal solution and hopefully win the competition.

Robotics / TSA Club Members observed job processes such as below and now will work to design a solution for improving the process or remove obstacles.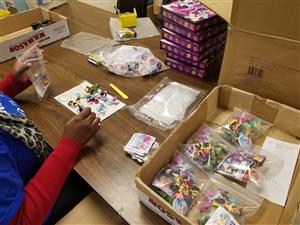 Robotics / TSA Club Members at Employment Horizons