Return to Headlines
Fiesta Navideña Holiday Mixer
By Huma Zeb, Spanish Club President and Wampus Contributor


On Wednesday December 20th, the Spanish Club combined their annual Fiesta Navideña with the FBLA Club and the Craig School. Mr. Mark DiGennaro and Ms. Marissa LaPlaca are the Co-Advisors of the FBLA Club and enjoyed the collaboration as did Dr. Eric M. Caparulo, Director of Craig High and Mrs. Dawn DeSimone, Craig High Guidance Counselor. Mr. Vincent LoGiudice, Mr. Roger Shan, Mr. Joseph Diaz, Mr. Frank Dunn and Mr. Brendan Schlitt attended the party as well, because the fiesta was open to all BHS staff members, too. Mrs. Rebecca Kipp-Newbold, Supervisor for the Department of the Humanities, enjoyed the fact that the party was commingled and commented, "Thank you for merging your clubs for your holiday celebration. You are building a community and traditions that are inclusive rather than exclusive, and creating an environment where everyone is welcome."


The club members were able to enjoy a variety of holiday treats, many of which were Latino infused. Spanish Club President Huma Zeb brought in homemade quesadillas that were devoured in minutes! Jennifer Padilla, the Secretary brought in "Morir soñando," a tasty Dominican beverage that features "leche condensada" and orange juice. Spanish Club member Nicole Krozer prepared the delicious rice and beans that everyone enjoyed. Amanda Roberts baked her famous "dulce de leche" bars and FBLA Club member Connor Neuhaus served the "merengues" that his mother has perfected over the years, made with chocolate chips. Other club members brought in tortilla chips, salsa and guacamole. Many students enjoyed mixing with the members of the FBLA, Spanish Club, and Craig High. It gave them an opportunity to meet friends, old and new, in a safe environment. Bleona Albazi stated that "Integrating the celebrations worked out great for me, as I belong to both FBLA and the Spanish Club, and I did not need to choose how to divide my time."


Over all, Mrs. Rebecca Kipp-Newbold was delighted that the Spanish Club decided to merge the annual Fiesta Navideña with the FBLA Club and the Craig School. Mr. DiGennaro and Mrs. LaPlaca are looking forward to future collaborations with Señora Buck and Señora Reich and the Spanish Club. Dr. Eric M. Caparulo even invited the Spanish Club to hold next year's Fiesta Navideña in the Craig High student lounge. Many students benefited as a result of the collaboration because they were members of both clubs, so they were able to attend both parties. The holiday mixer was a great way for everyone to mingle with fellow students, faculty, and members of our BHS extended community. These festivities allowed everyone to end 2017 on a positive note and ring in the New Year. ¡Un feliz y próspero Año Nuevo!



Photographs by Señora Christina Buck, Co-Advisor for the Spanish Club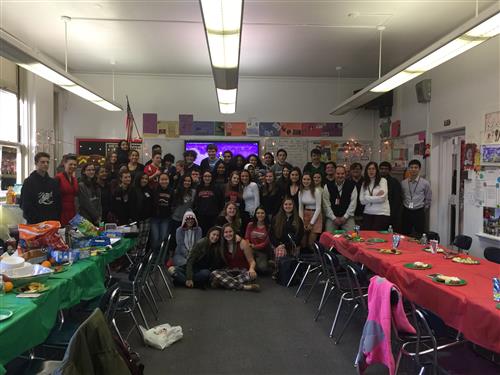 (Bottom Row 1, L to R): Gracie Ciulla and Catie Owens. (Bottom Row 2, L to R): Juia Shay, Sophia Sikora, Jaylene Combs and Carolyn Murray. (Standing Row 3, L to R): Nicole Krozer, Melissa Delgado, Lillian Lin, Sofia Mendoza, Jennifer Padilla, Kate Crooker, Mia Peguero, Alexis O'Shall, Samantha Scaltro, Emma Visioli, Mr. Joseph Diaz, and Mrs. Marissa LaPlaca. (Standing Row 4,L to R): Michael Sulpy, Sra. Christina Buck, Amanda Roberts, Noor Zeb, Samia Shivon, Wes Acciarito, Gianfranco Bardales, Jeremy Valentin, Jarod Christern, James, Conway, Henry Borner Du Cane, Kotten Lee, Ifrah Bajwa, Hajar Bakir, Gia Stritter, Alex Colaizzi, Mr. Dunn, Mr. Schlitt, Mr. LoGiudice, and Mr. Shan. (Standing Row 5,L to R): Katrina Seeberger, Huma Zeb, Jazmine Rivera, our Craig High friends, and Bianca Marc, Shakay Simpson, Brianna Quintanar, Aisha Shafiq, Patrick Nathan and a new friend. Not pictured: Dr. Eric Caparulo and Mrs. Dawn DeSimone.
(L to R): Ms. LaPlaca, Mr. Schlitt, Sra. Buck, Mr. LoGiudice, and Mr. DiGennaro.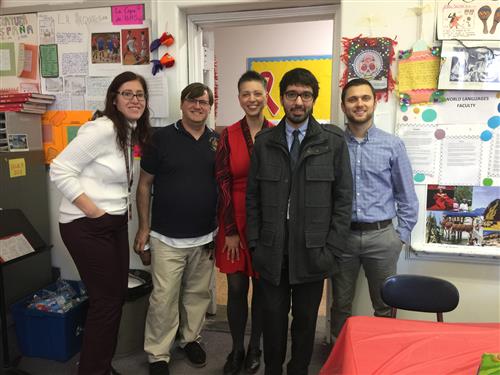 (L to R): Melissa Delgado, Lillian Lin, and Amanda Roberts.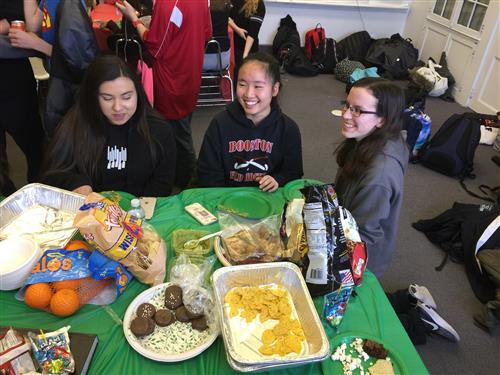 (L to R): Katrina Seeberger and Nicole Krozer.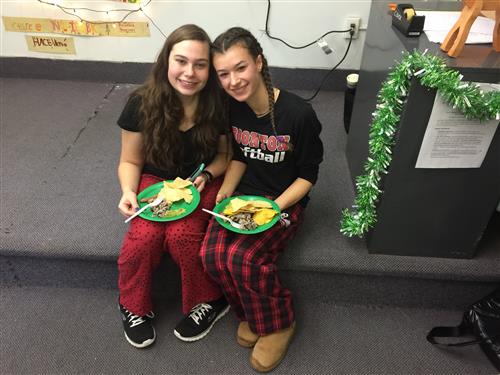 (Below) Mrs. LaPlaca mingles with students and guests during the event.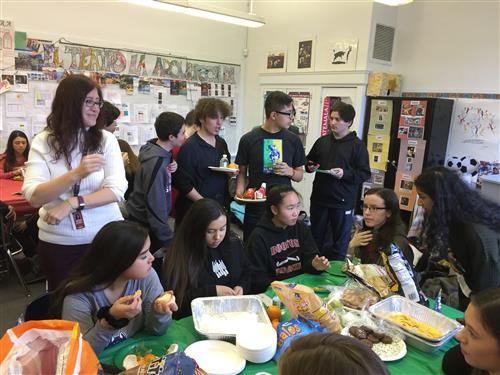 Craig High Guidance Counselor Mrs. Dawn DeSimone speaks with BHS Senior Carolyn Murray on her college and career plans during the fiesta.